CREDENTIALS & TESTIMONIALS
Gas Appliance Specialists (2005) Limited is Auckland's leading authorised service centre for Rinnai and Brivis gas appliances. We are experts in our field, with over 20 years' product experience, and we choose to deal in Rinnai and Brivis gas appliances only. Our appliance technicians are qualified, licensed gasfitters and are fully competent and authorised to service or repair your gas appliance. Plus we have the full support direct from the manufacturers. Our technicians are friendly and courteous and carry a large range of genuine spare parts on their vehicles. They will always endeavour to be on time and will provide a quality and speedy repair or service.
We cover Central Auckland, CBD, North Shore, West Auckland and East Auckland and our friendly office staff are ready to handle your enquiry today.
Call us now, on 0800 030 098 (or 021 671 650).
HOW DO OUR CUSTOMERS RATE US?
96% of our customers* said we arrived On time!
99% of our customers* said our technicians are Friendly and courteous!
89% of our customers* said our technician did an Excellent job!
87% of our customers* said they had an Excellent overall experience!
*Results are taken from 731 responses to our Customer Feedback Survey. Results have been updated as at 21st July 2021
Really impressed with customer service – knowledgeable and friendly staff and great communication.
Brook is excellent at her job. Speedy and definitely knows what she is about. I was very impressed with her workmanship and her attitude to the customer.
Brooke & Raju are highly skilled & friendly people. Prompt, honest, polite, & the workmanship is second to none. Considering the job done, the price was way cheaper compared to competitors! Will definitely recommend Gas Appliance Specialists! See you guys when the need arises. Million thanks!
Thank you for the excellent service both in getting the booking organised to getting the job done. The technician (Brooke as per the service certificate) was clear and concise about what the issues were and how to address it and everything that she said regarding invoicing/receipting and information of note that would be outlined and forwarded to me was done exactly as she said. Thank you.
Very helpful – great service and extremely thorough. Outstanding customer service all round.
Brilliant service from start to finish. Very professional company to deal with. I would highly recommend to anyone needing gas servicing / maintenance.
I was super impressed by the person who made my booking [Jess], as well as the technician [Eric]. He was very thorough. Overall amazing experience.
Very friendly and approachable team! Jess is extremely lovely and helpful!! Really appreciate Jess and the team's assistance and arrangements to keep us warm and safe!! I found you in Google and am very impressed with your service and reasonable price. Especially with your wonderful customer service, with phone calls, reminding emails! A very happy customer!
We have been in the process of renovating our house. We chose to install a gas fire as well as swap out the electric hot water for gas.
We asked Gas Appliance Services to do the work. Nick first liaised with our builders to ensure construction of the fire cavity was correct, then he and Brooke carried out the installation once everything was ready.
We were impressed with the time it took to get all the installation done and how they ensured it worked within the overall renovation. Nick spent time testing everything after to make sure all was well.
Very pleased with the quality of their work and their professionalism. We wouldn't hesitate in recommending Gas Appliance Services.
Joel and Nick (the fixers), could not have been better. They were magnificent. Fast, efficient, and effective. (They even politely laughed at my jokes). My problem instantly became their problem. Beautifully warm last night. My family's winter ice-berg has melted away. Jessica and Sarah provided great service, responding to all my requests professionally and diligently.
Our Rinnai fires look like new after servicing. Joel obviously takes great pride in doing his work. [Gas Appliance Specialists are] always great to deal with, great communications & quality service. Having our appliances serviced during COVID L3 restrictions was much easier than I expected with Joel following guidelines for mask use & distancing.
It was great to see a female technician with a big smile and great customer service. Explained everything clearly and was very helpful.
The technician was super polite and helpful. Great to see a female doing the job :-).  Excellent – from booking the job, to servicing and follow up.
Very impressed with efficiency, care & obvious competency.  
The technician was brilliant, an amazing young woman, I was so impressed with the care and attention she paid to my appliance and home; she is an employee you should be extremely proud of. Thank you.  
Very happy with technicians and work today.
Brooke was amazing. I think she serviced our heaters last year too. So knowledgeable, a pleasure.
Brooke was lovely. On time, easy to communicate with, efficient!
A big thank you to Brooke for the work she did servicing our Brivis central heating unit at home, although I wasn't there I did speak to her by phone, and also my wife has given me a report back after Brooke had finished. Brooke was exceptionally helpful, willing to do whatever was necessary. Managed to also identify a small leak from one of our bathrooms underneath the house as part of her work, and was just tremendous. So it deserves a big thank you to Brooke and for her to be acknowledged at work and we look forward to having her back in the future. So thanks again.
We knew that installing a gas heating system into an old three-level house wouldn't be the easiest of jobs, but Nick and his team seemed to enjoy the challenge. They accommodated my desire to position the vent and the return air box as discreetly as possible. They overcame all obstacles and were very friendly and efficient.
It was a pleasure to deal with Nick and his capable technicians, and also Sarah who runs the business side of the operation and liaises with clients. In particular, we were impressed by the professionalism and enthusiasm of Brooke, who is the company's first female gas appliance technician. We felt we were dealing with "real people" who had the interests of their clients at heart and we would highly recommend their services.
It was great they come on time. They even wiped the outside of the heater, which I thought was great service. The whole process of this has been great. Great breakdown on the invoice A+++. Friendly specialists very respectful and they both did a great job
Brooke wore a face mask which stayed on throughout. Really appreciate that. Emails have been helpful and proactive. Everything explained well. Brooke was wonderful, fast and punctual. She explained what she was doing and why, and asked before she did anything in order to check.
Joel at Gas Appliance Specialists completed a fast and efficient repair on the duct work to our Brivis central heating system. A very pleasant experience!
Gas Appliance have been servicing our fireplace for 13 years now. Excellent service every time.
Really impressed that [the technician] arrived right on time! Very pleasant and helpful. He appeared to do a very thorough job and even went the extra mile to fix adjust the wall bracket!  
Eric was exactly on time.  [Job done was] clean and tidy. [Overall customer experience was] professional and painless. The whole process from start to finish quick and easy, very professional.
Nick & team were very friendly and went above and beyond. Had a new gas fireplace installed in an existing space in an old house, Nick and his team were absolute professionals, tidy and on time . Had a small issue with WIFI connection to the gas fireplace next day. Nick contacted me promptly came to house same day, rectified the issue and ensured all working smoothly before he left.
Nick and his team were fantastic at helping me out. They were extremely helpful, friendly and prompt and I couldn't be happier with the service they provided. Would highly recommend.
Gas Appliance Specialists installed a central heating system in my office. They were extremely professional and all work was carried out very efficiently and quickly with minimum disruption to the day to day running of the office. The staff were very knowledgeable and friendly and the work was carried out on time and on budget. The system installed is very efficient and I would recommend this Company to anyone looking for a Gas Specialist."
Outstanding service and a great team to deal with, would not hesitate to recommend them to others.
We were kept well informed by the office about the ETA of the technician, which we appreciated. We were very impressed with the prompt, quality of their service and the attentive communication from their office.
Simon left the place clean and took the initiative to clean the finger marks left on the ceiling board. I am very impressed with Simon's professional and skilled manner when he did the job. Good communication as he explained what he had done. Fantastic service from Sarah in the office too.
Excellent customer service. The technicians went over and above with the replacement furnace and new ducting. Extremely courteous and proud of their work. Highly recommended
We are all very pleased with our new [Rinnai] Brivis heating and cooling system. It is very nice to have the house so evenly heated and we look forward to the cooling next summer. Please pass on my appreciation to Nick, Joel and the team for the care and attention to detail given throughout the installation process.
Eric came to my rental house to install a new Rinnai hot water heater. He is very professional, punctual, efficient and quick. He also has helped us find and solve problems that other gas plumbers weren't able to find. I would recommend Eric and this company without hesitation for any gas requirements. 
Ruka T, 06.05.2021
[Nick and Joel] were well organised, responded clearly to questions, got on with the job.
Excellent service, thanks very much!
It was simply put…..amazing service. Thank you.
Overall, excellent service. The technician, Brooke was very friendly and has great people skills. Took time to explain the problem, was very careful with her work throughout. Well done team.
My technician quickly diagnosed the problem, she repaired it and swept and wiped down the surrounding. Thank you so much for the great service.
Great service thank you – your technician arrived right on time and was courteous and efficient. Would definitely recommend.
The service work was efficient and effective, the technician was experienced and knowledgeable. The office support was also efficient and helpful, thank you
Gas Appliance Specialists serviced my Rinnai hot water heater. I found them to be organised, professional experts with friendly approachable staff. Thanks Gas Appliance Specialists for giving me peace of mind that my gas appliance was safe and working correctly!
We have been super impressed by Brooke. She is knowledgeable, really customer focused in her interactions with us, and brought a can-do attitude to everything! Huge thanks from us to Brooke.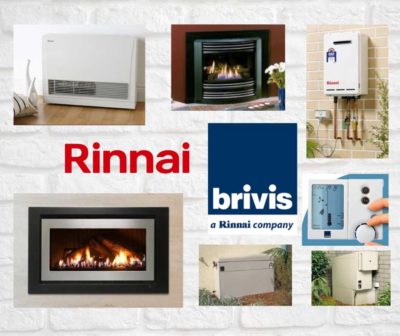 AUCKLAND'S LEADING RINNAI & BRIVIS AUTHORISED SERVICE CENTRE!
Don't wait for a breakdown!! Gas appliances should be checked and serviced every two years! Call us now for a friendly chat on 0800 030 098.