FREQUENTLY ASKED QUESTIONS – RINNAI
How often should I service my Rinnai gas heater or gas water heater?
The manufacturer recommends servicing your gas appliance every two years. This includes gas fires, gas water heaters, gas convector heaters and gas radiant heaters.
What's involved in a service?
During our spring/summer service program we offer fixed price servicing, which includes complete strip down, thorough cleaning, adjustments, re-commissioning and testing of the appliance. We also issue a gas safety certificate.
Do you carry parts to repair the heater on the same day?
Gas Appliance Specialists is an authorised Rinnai service centre. All our vehicles are fitted out with a complete range of parts and we are able to fix on the same day, in most cases.
Do you replace existing Rinnai heaters/water heaters?
Yes, we can provide a quote to replace your existing Rinnai heater/water heater.
What area do you service?
We cover Auckland Central, North Shore, East Auckland and West Auckland.
How long will my Rinnai gas heater service take?
A service of a Rinnai water heater, convector heater, or radiant heater takes approximately 20-45 minutes, depending on the appliance. A service of a Rinnai gas fire takes approximately 45-60 minutes, depending on the model.
How do you charge?
For regular servicing during our spring/summer service program we charge a flat rate regardless of the time we are on site. For all other service and repairs we charge a call out fee, plus time on site which is charged in 10 minute increments.
Do you do new installations?
Yes, we can provide a free quote to install a Rinnai, for your hot water or home heating requirements.
Does your company work after hours or weekends?
We only offer an after-hours emergency service to our existing commercial customers, which does come with an after-hours call out fee.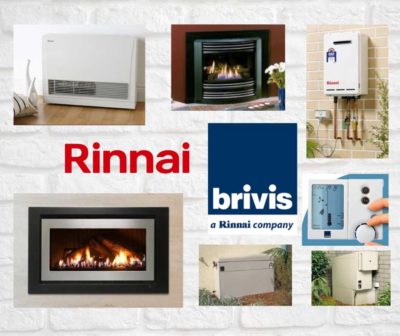 AUCKLAND'S LEADING RINNAI & BRIVIS AUTHORISED SERVICE CENTRE!
Don't wait for a breakdown!! Gas appliances should be checked and serviced every two years! Call us now for a friendly chat on 0800 030 098.