GAS APPLIANCE SPECIALISTS – AUCKLAND'S LEADING RINNAI SERVICE CENTRE
About Rinnai
Since Rinnai's establishment in 1920 as a manufacturer of gas and oil appliances, Rinnai Corporation has steadily expanded its business lines. Today, as the world's largest gas appliance manufacturer, Rinnai is widely regarded as the industry leader. With its headquarters in Nagoya, Rinnai Japan's domestic network comprises 20 branches, 78 sales office and 4 production facilities (plus 7 outside Japan). Rinnai maintains a broad international presence through 15 subsidiaries and affiliates across the world. Rinnai's corporate endeavours are guided by two customer driven principles: a commitment to safety and the achievement of a comfortable lifestyle. Rinnai companies share core values and a common corporate philosophy.
The Rinnai INFINITY ® gas hot water range still leads the market today, with the highest star ratings in the non-condensing category. Providing a saving of up to 66% in water heating each month, this is one of our best creations yet.
We, and the manufacturer, recommend that you have your Rinnai gas appliance serviced every two years. Gas appliances should be serviced regularly. This is for reasons of safety and running efficiency. Regular servicing also reduces the risk of breakdowns, which can be particularly inconvenient for you if this occurs over our busy winter season.
We specialise in the repair and maintenance of Rinnai gas appliances, including flame fires, water heaters, convector heaters and radiant heaters. Some examples are:
Arriva
Avenger
Blaze
Compact 2
Cosypanel
Dynamo
Ember
Enduro
Energysaver
Evolve
INFINITY
Linear
Lumina
Neo
Super Ray
Symmetry
Timberflame
During spring and summer we can offer fixed service costs, saving you money.
A Rinnai appliance service includes: –
Complete strip down of the appliance
Cleaning of the fan or fans
Cleaning of the burners and combustion chamber
Adjustment of the ignition and flame rods
Reassembling and re-commissioning the unit
Adjusting the gas valve; and 
Testing the operation of the appliance
Any replacement of parts and issuing a gas safety certificate would be additional costs. 
Contact our office today to discuss, on 0800 030 098 (or 021 671 650).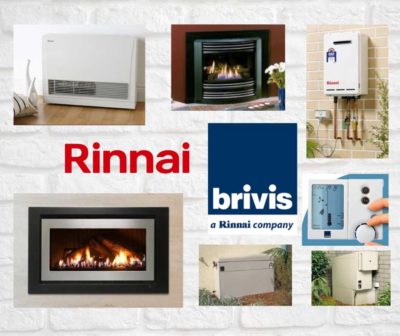 AUCKLAND'S LEADING RINNAI & BRIVIS AUTHORISED SERVICE CENTRE!
Don't wait for a breakdown!! Gas appliances should be checked and serviced every two years! Call us now for a friendly chat on 0800 030 098.